SOLUTIONS /
AI GUN DETECTION
Military Inspired AI Technology
Data-centric AI delivers improved accuracy and sub-second detection of potential gun threats.
OUR TECHNOLOGY
Data-Centric AI
Our expertise in AI has roots in the U.S. Department of Defense and DARPA related to real-time target recognition and threat classification. That military focus on high reliability and precision carried through to the development of our AI threat detection that goes beyond identifying guns to finding active shooter threats.
We employ a data-centric AI methodology that prioritizes high-quality training data. While traditional methods focus on data volume, sourcing millions of gun images, we take a quality-over-quantity approach. Our training data is hand-curated with rich annotations that improve accuracy and increase reliability.
We tested the Omnilert Gun Detect analytics using many kinds of guns, in different environments inside and outside, and under varying lighting conditions. Throughout all our testing, we were very impressed with the accuracy of the analytics and low false positive rate.


– Steve Morandi | VP of Product at Evolv Technology
POWERFUL AI SOFTWARE
How Our AI Detects Gun Threats
Omnilert's AI Threat Detection software employs a multi-dimensional approach, pinpointing not only guns but also potential shooter threats.
01
ASSESS
It first assesses frames of video to identify a body – a torso, arms, legs, etc. It's not looking for people or trying to identify a person, just the shape of a body without reference to color, gender or other identifying personal attributes.
02
DETECT
The AI then works as a gun detector, searching for a handgun or long gun in close proximity to the body. A wide range of handguns, shotguns, rifles and military-style weapons are distinguished by the AI while inert objects such as cell phones, hand-tools, common office objects and more are identified to diminish possible false positives.
03
ANALYZE
Finally, through a proprietary process, multiple frames of video are analyzed in sequence to establish a coherent track on the threat, reducing spurious or false detections. Additionally, the relationship of the gun to the arm and hand of the body is analyzed to bring additional clarity to the situation and help determine, with a high level of confidence, if an actual gun detection is in fact a threat.
The culmination of these stages results in shooter detection in fractions of a second. Rich intelligence that increases situational awareness (photo, video snippet, camera name and location) is shared with the customer's security operations center for verification or to Omnilert's geographically redundant, five-diamond certified monitoring centers.


ACT NOW
Protect Your Organization Today
Safeguard your people, facilities and operations from all of the threats you face today with AI gun detection.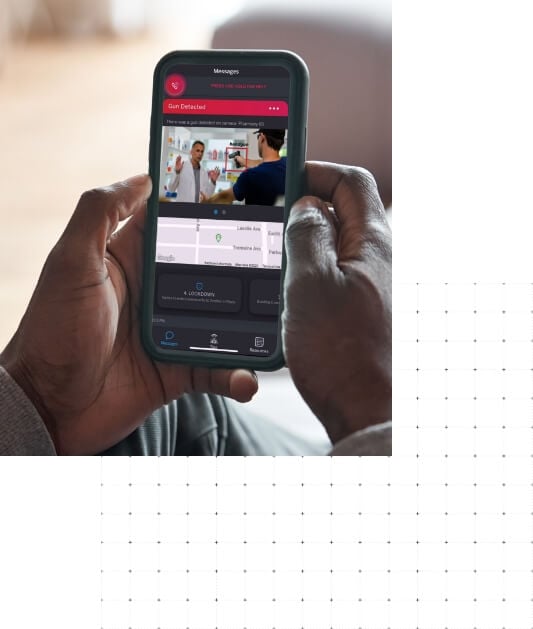 Explore our latest news and educational content related to active shooter protection, gun detection technology and emergency communications and automation.