SOLUTIONS /
ACTIVE SHOOTER SOLUTION
The Most Effective Gun Detection Solution For Active Shooter Threats
Omnilert Gun Detect saves lives through early gun and active shooter detection, human verification, mass communication and automated response.
OUR SOLUTION
Reliable, 24/7 Visual Gun Detection
Our
AI-powered visual Gun Detect Software
leverages your existing security cameras to create a widely deployable early gun detection solution.
In fractions of a second, our AI identifies a gun threat and sends an alert for human verification; whether you use Omnilert monitoring services or your own security operations center.
Early detection of gun threats are critical, but only the first step to protecting people from active shooters.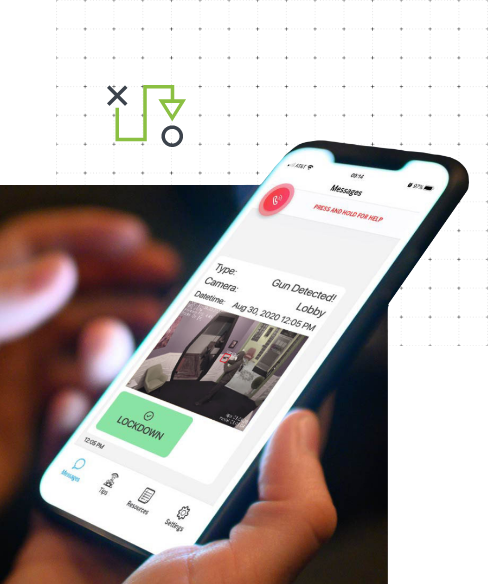 MAXIMIZE EVERY SECOND
Automate Your Response To Save Lives
A robust response is what changes outcomes of an active shooter incident. At the touch of a button, emergency response plans and systems are automatically activated to maximize every critical second.

Detailed situational intelligence is dispatched to police and onsite security teams throughout an incident for a rapid and much more effective response.

Our Emergency Communications and Automation Platform broadcasts alerts and notifications to those impacted – beyond mass text, email, and voice to mobile safety apps, social media, PA announcements and digital signage.

Security and safety systems are activated to lock doors, sound alarms, change lighting, highlight evacuation routes and much more.
VIDEO CASE STUDY
Early Detection & Response Makes A Difference
Learn how the Parkland shooting at the Marjory Stoneman Douglas High School could have been different if AI-powered Gun Detect Software were running alongside their existing security cameras.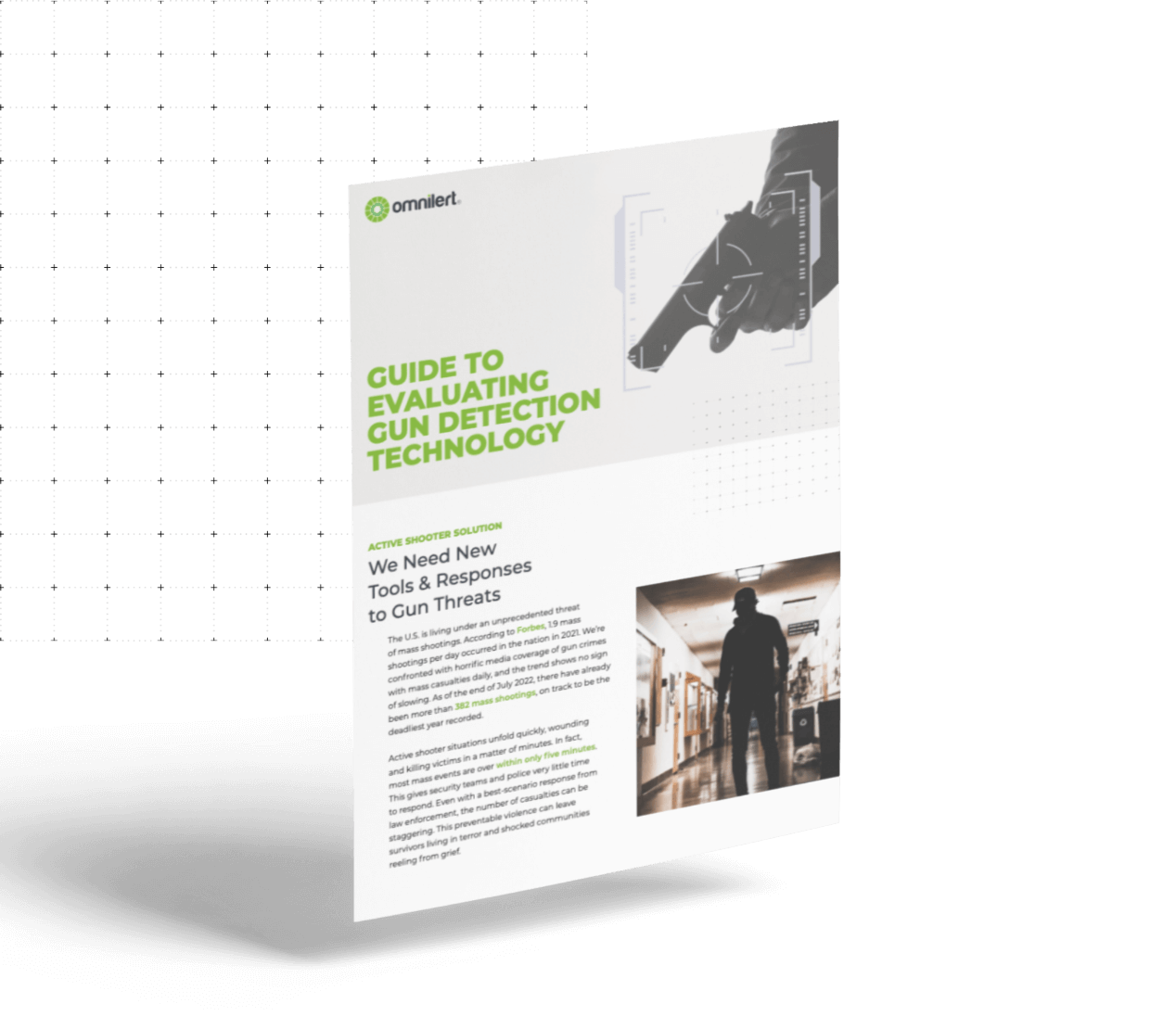 TECHNOLOGY GUIDE
Discover the Right Detection Tool
for You
The rise in active shooter situations has caused many to explore existing gun and active shooter detection technologies and what's most effective for their organization.

This comprehensive guide explores the common gun detection systems available while examining how current tools compare in terms of cost, expansion, preventative capabilities, and more. AI-powered visual gun detection software shines where others don't, and this guide provides the data and information to prove it.
ACT NOW
Protect Your Organization Today
Safeguard your people, facilities and operations from all of the threats you face. Try our AI gun and active shooter detection today.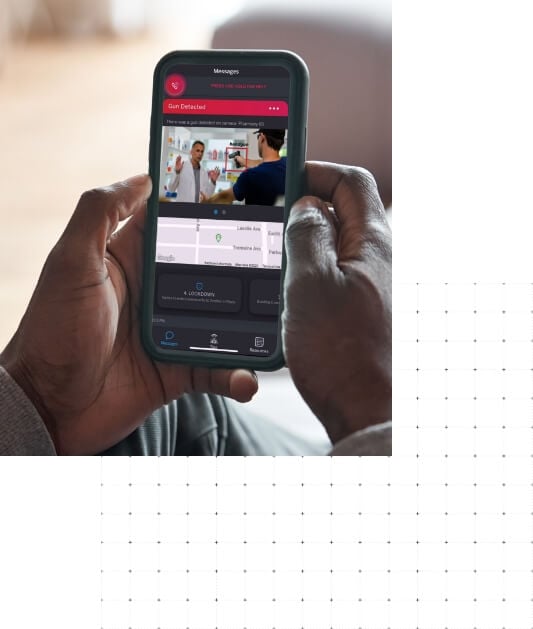 SOLUTIONS
Visual Gun Detection
How are gun violence statistics trending?
Per gun violence statistics in the United States, we rank 32nd in the world. With nearly four gun deaths per 100,000 people, the United States is eight times more deadly than Canada and nearly 100 times more deadly than the UK. Gun ownership rose during the pandemic, with a 20% increase in the number of federal background checks for gun purchases from March 2019 to March 2020. The worst part of these statistics is the increase in deaths attributable to guns, especially those of children.
How many mass shootings were there in 2021?
As of September, the year 2021 was already one of the deadliest on record for mass shootings. According to the Gun Violence Archive (GVA), there were 517 mass shootings in 2021, and more than 32,000 individuals died via guns by their own hand and at the hand of another.
Can mass shootings be prevented?
While emergency notification, engagement, and management are all designed to inform people and prevent harm, Omnilert has a set of AI-enhanced capabilities that move the timeline even earlier. Our Prevention Suite is designed to provide advance warning and rich data to the organization, so they can determine the best course of action and initiate the correct response. The native gun detection and mass notification integration reduces the time from first sighting to alerting to a handful of seconds and ultimately saves lives.
What is a gun detection system?
Powered by artificial intelligence (AI), Omnilert Gun Detect reliably and rapidly recognizes firearms and immediately triggers multi-channel communication alerts and automated pre-defined safety protocols.
Are gun detection systems effective?
Gunshot detection systems only inform you after the incident has already escalated. Your surveillance system can only help you investigate after the fact. In comparison, Omnilert Gun Detect gives emergency response teams advance warning before shots are fired and delivers precise information on the location and visuals of the potential shooter.
What is the best gun detection technology?
As gun violence in the United States continues to steadily increase, organizations and institutions are seeking new ways to protect their constituents. Video surveillance systems are increasingly being deployed, although monitoring can be difficult, unreliable, and expensive. Omnilert Gun Detect offers always-on monitoring with unparalleled reliability at a price point affordable to organizations and institutions of all sizes and complexities.
Which gun detection technology is best for large campuses?
Powered by artificial intelligence (AI), Omnilert Gun Detect uses existing video surveillance systems to reliably and rapidly recognize firearms and immediately trigger multi-channel alerts and automated pre-defined safety protocols. The combination of these rich capabilities provides campus safety teams with the broadest array of solutions, spanning prevention, notification, engagement and management.
Explore our latest news and educational content related to active shooter protection, gun detection technology and emergency communications and automation.