SOLUTIONS /
PROFESSIONAL MONITORING
VERIFICATION IS AS EASY AS 1, 2, 3.
Omnilert makes verifying and escalating gun detections simple, fast and flexible.
SIMPLE. FAST. FLEXIBLE.
Simplified Monitoring that's Full of Options
Omnilert Gun Detect simplifies the task of human verification of gun detections. Alerts are delivered through desktop, mobile and/or web apps, video management systems, control room platforms and more within seconds of detection. Quickly scan between a full frame still image, a close-up magnification of the suspected gun and a video snippet for additional context to determine the appropriate response.
Confirm threats and activate response plans in just a tap or click to include calling police, locking doors, sounding alarms and notifying those in harm's way.
SCALABILITY + EXPERIENCE
Professional Monitoring and Escalation through Omnilert
If staffing realities prevent you from responding to and escalating gun detections, or simply prefer to select a fully managed solution, Omnilert Monitoring is proven, trusted and backed by an industry leader. Using a dedicated, professional service provides:
Scalability to meet the needs of our rapidly growing Omnilert Gun Detect customers
Stringent certifications from UL and TMA 5 Diamond
Experienced agents with 50% having an average of 6-7 years experience with backgrounds in law enforcement, healthcare specialties and military
3 redundant U.S. locations across the Midwest and South – international options available

Multiple layers of power, network and IT system redundancy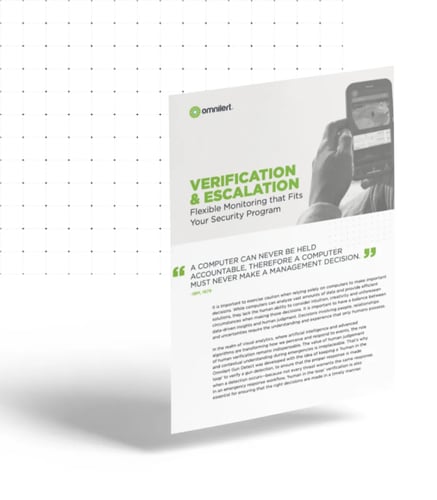 WHITE PAPER
Verification & Escalation: The Human Factor in Omnilert Gun Detection
Omnilert Gun Detect offers a flexible verification process with options for real-time professional monitoring, direct SOC alert delivery, team verification, and more. By catering to a wide range of unique operational needs, Omnilert Gun Detect is paving the way for a more robust stance against potential threats.
Download our white paper to learn more about the comprehensive, industry-leading monitoring capabilities of Omnilert Gun Detect.
ALIGNING WITH YOUR EXISTING WORKFLOWS
Verification & Escalation That Fits Your Security Program
We don't dictate your security procedures. Supporting your procedures is our number one goal. Whether you choose Omnilert Monitoring, your own security operations center (SOC) or internal teams, a combination of these, or even a third party service of your choice, our open platform was designed to support you and your changing needs.
Integrate with VMS and Control Room Platforms to create native detection alerts within those systems for a seamless experience.
Empower security teams and others to validate gun detections and quickly escalate using Omnilert desktop, mobile and web apps.
Select your monitoring partner of choice, such as ADT, Alarm.com, IMMIX, Bold Group or others to apply their expertise with Omnilert Gun Detect integrated directly into their systems.