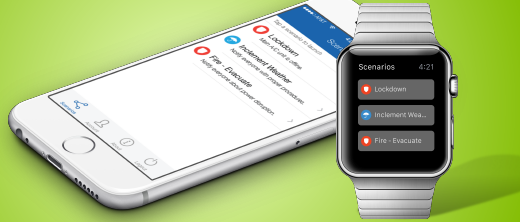 Initiate a Complex Emergency Response in Seconds
How quickly and effectively can your team react when emergencies happen? Omnilert's Scenarios help you better prepare for emergencies and respond even faster when incidents occur.
Use Scenarios to carefully plan complex responses to common incidents so you can have them ready to go at any time.
Use Scenarios — or the new Apple Watch App – to launch a scenario anytime, anywhere in under 10 seconds directly from your mobile phone.
---
Scenarios: Prepare Your Response
Optimal emergency response management requires more than simply sending out emergency notification alerts. Successfully managing throughout the full crisis continuum requires careful planning and coordination before, during and after an incident. Scenarios capture your team's response plans in a series of specific actions that can be implemented at your command.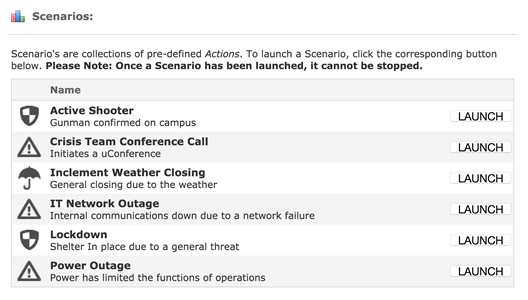 With one click, you can initiate an entire action sequence
Send custom text, email and voice messages to each group or department
Notify local first responders of the situation
Post social media messages to Twitter and Facebook
Update your website with a targeted emergency notice
Display a scrolling message on all employees' desktops
Send audible alerts to fire alarms, alert beacons or public address systems
Initiate an outbound conference call to automatically connect your emergency response team to plan next steps
Pre-planning your initial incident responses in advance allows you to leverage all the skills, talents and expertise of your entire emergency response and leadership teams. Scenarios helps your team effectively respond without the distraction of stress and adrenaline of an emergency situation. When an incident occurs, you can have confidence that your initial response will be as effective as possible.
Scenarios: A Thousand Scenarios in Your Pocket
You never know where you will be when an emergency strikes. Scenarios make it easy to respond in wherever you happen to be.
The native mobile application for iPhone and Android allows Omnilert administrators to quickly initiate complex emergency responses directly from their smart phones.
In less than 10 seconds, you can:
Log in securely
Select one of your scenarios
Initiate your pre-planned response