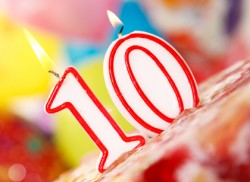 Omnilert, the pioneer in emergency alerting systems, today announced that September marks the tenth anniversary of the company's founding. Everyday more than 20,000 organizations and 9.5 million people rely on the company's Omnilert, e2Campus, Amerilert and RainedOut alerting services to stay safe and connected.
In 2003, Omnilert founders Ara Bagdasarian and Nick Gustavsson read about the heartbreaking story of Jeanne Clery, a co-ed brutally attacked and murdered in her dorm room at Lehigh University and the inspiration for the Jeanne Clery Disclosure of Campus Security Policy and Campus Crime Statistics Act.
Determined to help keep students safer on campus, Ara and Nick combined their backgrounds in web and mobile technology to develop the world's first campus emergency notification system (ENS). They launched their company and introduced e2Campus in August 2004. For the first time schools could quickly send emergency text message alerts and reach students directly via their mobile phones. Soon after, the company added email and voice message alerting then continued to lead innovation in this new industry:
First to offer mobile opt-in, opt-out manager and auto opt-out features
First to offer SmartCode technology to display alerts on clients' own website
First ENS for schools to integrate with the OASIS Common Alerting Protocol (CAP)
First to unify disparate emergency alerting systems into one intuitive screen
First to integrate with Facebook, Twitter, RSS, digital signage, alert beacons, fire alarms
First to integrate with public address systems and fire alarm enunciators
First text messaging dispatch system to receive replies from responders
First to integrate with desktop alerting systems
First to broadcast via TTY/TDD for the hearing-impaired
First to initiate alerts from a smartphone without making a call
First to offer Single Sign-On with Shibboleth
First to offer anonymous text-a-tip service for schools
First to offer instant crisis collaboration outbound conference calling
See more at: http://omnilert.com/about/innovations
Omnilert expanded its services to meet additional critical communication needs by offering emergency notification services to enterprises, governments and first responders via the Omnilert and Amerilert services. In 2005, Omnilert introduced RainedOut, the first ever service that helps sports leagues and clubs to easily communicate with players and members with last minute announcements via text alerts. It launched Bully-Buster.com, an anti-bullying system for K-12 schools that combines text-a-tip alerting with carefully designed psychological deterrence strategies.
Ara H. Bagdasarian, Co-founder and CEO of Omnilert said, "Ten years ago, we founded Omnilert with a single mission to keep people safe though the immediate delivery of information and avert another tragedy. We continue to built a culture and dedicated team who have a passion for helping those who help others stay safe and connected" Co-founder Nick Gustavsson added, "At Omnilert we have a culture of constant and never ending innovation. We are very excited about what the next 10 years will bring."
As a testament to their commitment to customers, over 98% of Omnilert's customers renew their service every year. Anne Arundel Community College was the very first customer to adopt Omnilert for campus safety in 2004. Executive Director of Administrative Services Maury Chaput recalled, "Omnilert offered a new way to communicate with students that did not exist at the time. We have continued to work together with Omnilert over the past decade to expand our reach and keep our students safer than ever."
Story photo: Anne Arundel Community College: http://bit.ly/1uucP44
About Omnilert
Omnilert, LLC develops intuitive communication technologies that keep communities safe and connected. The company's flagship service is a Tier-1 interactive unified mass notification system that enables a single person to communicate critical information to thousands of people anywhere, anytime, on any device or service. This affords better crisis communications, emergency management, business continuity, disaster recovery, and crime solving. The award-winning company's 21,000 clients include the U.S. Army, Verizon Wireless, Bayer, Mazda, Penn State, Cal Poly, YMCA, American Red Cross, and UNICEF. Omnilert solutions are sold under the brand names e2Campus, Amerilert, and RainedOut. The privately held company is headquartered in Leesburg, Va., and at www.omnilert.com online.