Product demonstrations of all new features available at EMEX booth #415
LAS VEGAS
From EMEX 2011, Amerilert® announced the launch of version 4.0 and the Enterprise Safety Suite comprised of uAlert, uTip, uConference, and Hotline services. The new suite of safety communication services offers the most complete solution to keep organizations safer and more connected. It establishes two-way communication for organizations to both push safety information out to staff and others as well as receive vital information from them. Demonstrations of the new services are available in Amerilert booth #415 at The Emergency Management & Homeland Security Expo (EMEX), the annual expo of the International Association of Emergency Managers (IAEM).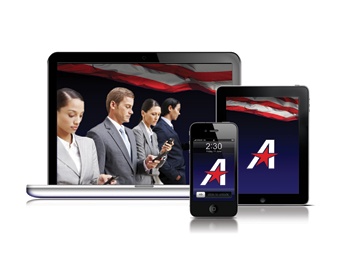 "The new Amerilert Enterprise Safety Suite will significantly improve an organization's emergency management, crisis communications, business continuity and disaster recovery (BC/DR) efforts," explained Omnilert's CTO, Nick Gustavsson. "This new version builds on our recent advances and expanded alerting infrastructure to deliver an encompassing experience with the reliability and performance Amerilert is recognized for."
The Enterprise Safety Suite's flagship service is the award-winninguAlert™, the most trusted unified emergency notification system used by hundreds of mid-sized businesses, hospitals, utilities, non-profits, government agencies, and military organizations. The uAlert service is a CAP compliant, GIS-based, Tier-1 interactive notification system that enables non-technical staff to send custom or template messages instantly to an entire organization. Recipients can reply back via text, email or touch-tone phone for faster information gathering and better situational awareness.
Through one intuitive interface, the cloud-based uAlert instantly and simultaneously sends multimodal alerts to mobile phones (via SMS text message), landline phones (via voice message), computer desktops (pop-up), e-mail accounts, PA systems, digital signage, alert beacons, Facebook Pages, Twitter accounts, relevant Web pages, and other endpoints the organization may have in place.
Significant 4.0 enhancements to uAlert include the ability for bidirectional alerts (text, voice, email), ERP integration, international alert delivery (text, voice, email), translation to 32 foreign languages, GIS targeting of recipients, mobile opt-in registration, Shibboleth single sign-on, new APIs, advanced reporting, additional data centers, faster load times, and greater security.
The clever new uConference™ service is a crisis collaboration tool that allows any stakeholder to initiate ad hoc secure outbound teleconference calls to create a virtual situation room regardless of team members current physical location. Unlike a scheduled teleconference call, uConference is used when a group of people need instant live collaboration via phone conversation to coordinate a cross-department response, determine a new course of action, approve proposed announcements, and more.
The uTip™ service is a revolutionary new way to boost security by enabling people to submit tips via text messages from a standard cell phone. This mobile tip line instantly delivers anonymous tips to designated safety or security staff's mobile phones and email. Tips could expose theft, vandalism, fraud, and sexual harassment, or hazards such as spills, leaks, breaks, etc. No download or registration is necessary for tipsters to utilize uTip.
Hotline™ is an amazing service that enables thousands of people to call a dedicated number to hear an alert message from an organization. Unlike traditional call answering systems, this next generation service provides expansive capacity to handle thousands of incoming calls without busy signals or putting callers on-hold. It is ideal for smaller operations that don't have the phone network capacity or staff to handle thousands of calls per minute.
Pricing and Availability
All services are available today for purchase directly or through authorized resellers. Separate Amerilert pricing exists for businesses, non-profits, and government organizations.
About Amerilert
Amerilert is the leading interactive safety communication system for mid-sized businesses, non-profits and government clients. Services include Safe Towns, Enterprise, First Responder, uAlert, uTip, uConference, and Hotline. The award-winning flagship service, uAlert, enables non-technical staff to send custom or predefined messages from one simple interface to thousands of people anywhere, anytime, on any device for improved crisis communications, emergency management, business continuity, disaster recovery, and crime solving. Amerilert is used by the U.S. Army, Defense Logistics Agency, U.S. Attorney's Office, Bayer, Mazda, Philadelphia Zoo, and fire departments across America. To learn more, visit www.Amerilert.com.
About Omnilert
Omnilert, LLC develops intuitive communication technologies that keep communities safe and connected. The company's flagship service is a Tier-1 unified mass notification system that enables a single person to communicate timely information to thousands of people anywhere, anytime, on any device or service. The award-winning company's 6,000 clients include the U.S. Army, Bayer, Mazda, sanofi-aventis, Arizona State University, Penn State, Marine Corps Marathon, YMCA, American Red Cross, and UNICEF. Omnilert solutions are sold under the brand names e2Campus, Amerilert, and RainedOut. The privately held company is headquartered in Leesburg, Va., and at www.omnilert.comonline.