For most of us, when we hear severe winter weather we imagine sheets of white snow covering the roads — potentially allowing us to work from home or have the day off from work and school. Heavy snow is what many of us fear most when we think of winter weather. It can cause delays - or even cancellations - in our day to day lives. Although snowstorms can be brutal, organizations typically react as proactively as possible to prepare the roads, sidewalks, and parking lots with salt — and have the snow plows and shovels ready.
However, severe winter weather can be much more than just snow. Winter can often bring dangerously low temperatures, wind chill, and ice, which can create issues with business continuity. Some organizations cannot function without staff on site or the ability to be outdoors safely.
Being prepared for severe winter weather - all types of severe winter weather - can help your business effectively communicate closures or delays. Winter storms are sometimes called the "deceptive killers" since many deaths can be attributed to indirect causes of adverse weather. To assist you in keeping your people safe, we're going to discuss three types of winter weather and why it's important to incorporate these into your emergency response and critical communications via your mass notification system.
1. Freezing Temperatures
Depending on where you are in the United States, you may experience colder temperatures than others. When temperatures go below freezing, there's a safety risk for your employees and staff. In such industries as manufacturing, there's a likelihood that workers must walk to and from buildings and many also physically work outside. It's imperative that when below freezing temperatures occur, you must be cognizant of when temperatures drop below an acceptable level and notify your people immediately.
Integrating a weather alerting system into your mass notification system allows you, and your organization, to receive updates from NWS about low-temperature advisories and warnings. A tool like Triggers allows you to integrate systems, such as weather systems or even onsite weather stations, into your mass notification system. You can set the parameters at which you want an alert to automatically send to your people through multiple avenues such as text and email, digital signage, emergency notification apps, websites widgets, and many more.
2. Wind Chill
Additionally, it's not just the air temperature. You must also be aware of wind chill, which is a calculation that factors in wind speed to provide a value on what it feels like outside. As winds increase, our body temperature cools which can cause health issues such as frostbite. Because of these conditions, many organizations, including schools and college campuses, cease outdoor activities to ensure the safety of their people.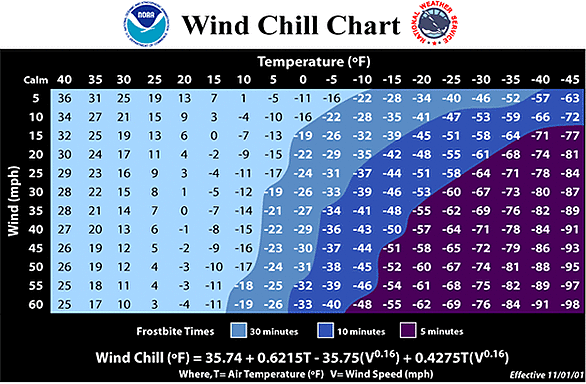 Another reason to create a wind chill or freezing temperature alert for your organization is because pipes can burst and machinery can stop working in these aggressively cold temperatures. Being preventative by setting up an alert to receive a notification for low temperatures can afford you the opportunity to prepare your infrastructure that may be impacted by colder temperatures.
3. Ice Storms & Freezing Rain
There are multiple concerns when it comes to ice and freezing rain. For your employees and staff - slips, trips, and falls - it is the responsibility of the organization to keep their employees safe and informed of hazardous situations while they're at work and also keeping a safe path on your property. Having an alert predefined in your mass notification system spreads caution and awareness while effectively relaying the message quickly. In addition to clearing and salting the paths and roads, organizations need to take an additional step by informing employees of the situation — which builds trust that you have the situation under control.
Ice can also accumulate on infrastructures causing issues. Because ice is so heavy when it accumulates, it is known to bring down tree limbs and power lines which can be an immediate cause for certain road closures or infrastructure interruptions. Notifying employees, students, and staff is imperative when an ice storm impacts or has the potential to impact your operations.
Severe winter weather is something that much of the United States faces from October to March every year. Naturally, you want to be open for business, but you must think of the safety of your employees, customers, and constituents. Keeping your people informed is key to their safety. Using a mass notification system to help keep your staff and employees safe, at work and on the way to work, is an obligation of a business.
To learn more about the ways you can prepare your mass notification system to protect and inform your organization, download the Insight - Do You Scenario?