The U.S. has experienced its fair share of environmental emergencies this year; peaking in the Spring and Summer. Unfortunately, it doesn't seem to be slowing down anytime soon with hurricanes, tornadoes, earthquakes, flash flooding, high winds, and volcanic eruptions still being experienced - and not to mention winter weather on the horizon. After speaking with numerous organizations in these affected areas, I've been exposed to the unique needs each organization has when weather and other environmental events impact their operations and livelihood - and how having a fast and reliable mass notification system like Omnilert helps them through the planning, response, and recovery phases of an emergency.
Right now, the Southern East Coast is in the direct path for several hurricanes making landfall in the upcoming weeks. Starting out as an Atlantic tropical storm, Hurricane Florence is the nearest hurricane on its way. Following closely behind Florence, there's also Hurricanes Isaac and Helene. As I prepare for the next few uncertain days from my office in South Carolina, I have the opportunity to reflect on the recent conversations I've had with many of my customers over the past few months.
Most recently, my customers in Hawaii have had to prepare for and endure Hurricane Lane, kissing the edges of the entire state. This on top of the volcanic eruptions that continue. Although the storm didn't make landfall, it did provide massive flooding and strong winds that caused damage.
One specific organization that I work with that was impacted is Waikiki Health. They have done a tremendous job of preparing for just these types of natural disasters. They plan their communications - from each Scenario they may experience, to which groups of people are kept in the know for the specific response and recovery roles, to how and when to initiate notification. They've told me that by planning the communications within their Omnilert notification system - they would "save hours of work" in the long run - allowing them to be more effective during the actual crisis. Time and effort they could not invest when they needed to be responding and recovering. Earlier this year, the State of Hawaii received a lot of attention for not having their mass notification act together. Let's just say Waikiki Health has been a shining example of what to do.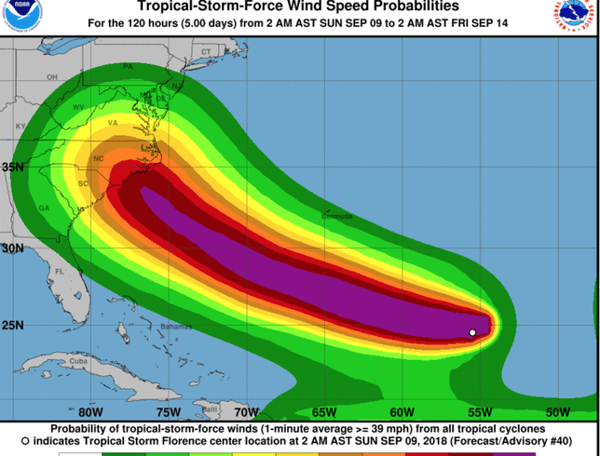 With technology as advanced as it is, storms are able to be tracked (speed, size, and direction) which inform us of when and where they're likely to hit and cause severe damage. Thus, enabling us to prepare days and even weeks in advance before the storm nears land for evacuations and for emergency management to ensure the safety of everyone involved. Advanced technologies also allow mass notifications to be sent through different endpoints such as text, emails, voice calls, and social media ensuring that as many people as possible are reached and are alerted to the emergency and the actions that should be taken to mitigate risk and to keep your people safe. Of course, with most organizations, this planning and preparation refresher took place many, many months ago - and is years in the making.
In some emergencies, there is no time to spare - and no time to prepare - if you haven't done so already. No one person or even organization can stop natural disasters or even slow them down. That's why many organizations, as well as communities, assisted living facilities, manufacturing plants, universities, and businesses are requiring advanced preparation capabilities in their mass notification system. Preparing for these types of events before any emergency occurs allows you to save time when the emergency is actually happening. Preparing for specific Scenarios within your mass notification system enables you to ensure every critical communication reaches every person through every means possible - when that specific hazard is upon you and your people. With the launch of one Scenario, at the same time, you're able to give life to your emergency response and action plan to:
- Notify your people to evacuate;

- Give them actions for the safest ways out of the vicinity;

- Initiate a remote meeting for your crisis management team;

- Contact other organizations to inform them of the evacuation;

- Promote NWS severe weather warnings and updates; and

- Initiate specific technological actions to connected systems and devices.
It's not as simple as sending a single text or email to your people if there's an emergency. When there's a situation such as an approaching wildfire, volcanic eruption, earthquake, or - in my case - being in the hurricane's cone of uncertainty; there's no time to go door-to-door informing people of the emergency and what actions to take. You must have a plan and the technology in place to do that outreach for you - so your team can focus on the logistics of final preparation, response, and recovery.
Ensuring your organization is prepared for hurricane season is something that needs to be done long before any hurricane comes near. Having those predefined messages and technological actions created is a necessity that you must invest time. With proper planning, in alignment with your organization's emergency notification and response plan, we can mitigate the risk and damage associated with a hurricane or other potential environmental hazard.
Helping others prepare for these upcoming hurricanes, that myself, my entire family, and my business are also experiencing, has once again helped me to truly appreciate the importance of preparation and ensuring your people are informed. As we've seen in the past few hurricane seasons, we have no idea how much damage will occur, but having your emergency notification system prepared and aligned with your emergency response and action plan gives you peace of mind you wouldn't have had otherwise. It proves to your team and your entire organization that you already know what steps and actions you're going to take to keep everyone safe. Although the next week is uncertain for millions of people, I have peace of mind and am grateful for being provided with well-planned, timely, and actionable communications when in times of need.
To ensure your organization is prepared for any emergency that might affect your organization, or your people, read the Critical Communications Cycle Ebook. This will tell you how to prepare your organization, and your emergency response and action plan, before, during, and after an emergency.