Charles Country Public Schools (CCPS) in Maryland understands how innovative technology can be an important piece in a multi-layered approach to school and student safety. As the first school district in its state to implement AI visual gun detection technology, they are now sharing what they have learned with other schools to help shorten the learning curve around AI solutions and help save lives. CCPS director of school safety and security, Jason Stoddard, recently wrote this article in Campus Safety Magazine outlining the advantages of AI visual gun detection and highlighting some of the valuable lessons all security directors should know when incorporating this additional layer of technology into their overall security system.
CCPS plans to have Omnilert Gun Detect activated systemwide by the start of the new school year and the technology will be integrated with exterior cameras. The ultimate goal of this projects is to keep its 27,598 students safe throughout 22 elementary and 9 middle schools, 7 high schools, and 5 education centers. As Jason points out in his article, "The technology works as advertised. It is accurate, provides quick notifications, and is a cost-effective way to transition your reactive camera system to a proactive portion of your security strategy."
Leading the Way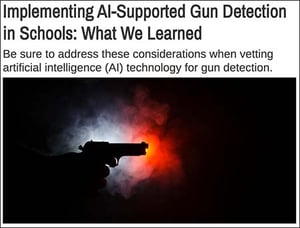 We commend CCPS on being a role model not only for other Maryland Schools, but also every school in the country. By choosing Omnilert Gun Detect, they now have access to the only visual gun detection technology to feature a proven emergency notification system (ENS) - providing 24/7 monitoring with a near-instant response at the first sight of a gun to ensure the best possible outcomes. In seconds, Omnilert technology can identify gun threats, verify detections, and initiate a series of automated responses such as lock doors, notify police and send alerts.
To learn more about Omnilert Gun Detect, visit this web page. Or to see the technology in action yourself, check out our self-demo.
If you are interested in learning more about AI gun detection and our visual active shooter solution contact us now.