Success in organizational or campus safety is contingent upon careful planning and collaboration with other business units. The best outcomes occur when an emergency manager, operations manager, safety director, or the like, assembles a team to assist with testing and implementing their solution. When you're working with hundreds, or even thousands, of people on a large campus the question comes down to how can you make sure you're successfully reaching every person?
Whether it be a university or college, a manufacturing plant or corporate headquarters, or a healthcare facility, many of the clients we work with are innovators who are often doing what no competitor is doing; and that's what sets them apart. The same goes for innovations in the safety of their organization. Large campus emergency managers need a mass notification system for schools that does more in less time with one-touch freedom and reliability. It isn't just about receiving a text message or email anymore. It's about notifying your people using a multitude of different avenues to ensure they're informed of an emergency.
Traditional emergency response systems are generally very limiting. Many organizations will send an emergency notification by email blast to a particular site; or they'll use a public address system that works off the fire alarm system. The problem some clients have found with this type of system is it misses a lot of people who are typically away from their desks or people who are only visiting the campus.
When an enterprise client was asked about the safety on their campus they said, "There are definitely more variables here than the average corporate campus, therefore our emergency notification and response system must have incredible flexibility, as well as comprehensive coverage, and lightning speed, to meet all of our needs." To ensure they were notifying every individual on campus they pre-loaded the database of users with employees, then they promoted self-registration throughout the campus for others. Prior to using Omnilert, staff had to call an external number or check a website to find out whether the campus was open.
To learn more about the emergency response and action plans this organization takes to ensure the safety of their employees, read the full Insight here: Corporate Campus Innovations in Implementing Emergency Action & Response.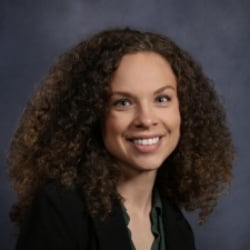 Juliet Hulse
Juliet is the Marketing Operations Manager for Omnilert. With her education in marketing, and her professional background in sales, she is able to understand the important marriage of marketing and sales.