It's that time of the year again when universities, colleges, and K-12 schools open up their doors for their students and staff. With students coming back, the safety of everyone on campus is a big issue. Emergency communication is more important than ever on any campus. The goal of any organization is to ensure that your mass notification reaches every person through multiple routes. This is especially important when there are children or students involved. There's never a 100% chance that someone has their mobile phone on them at all times, so you must use other methods to reach your people. In the world of IoT, this multimodal approach is increasingly easy to implement and initiate.
The Universities at Shady Grove (USG) located in Rockville, Maryland was established to offer career-oriented higher education courses for students to earn a degree within the University of Maryland System (USM). This campus offers classes from nine of USM institutions for third and fourth-year students; as well as graduate level courses. Even though all of these universities share this one campus, the safety of all their staff and students is the responsibility of Campus Safety at USG. John Brandt, Safety and Security Manager at USG understands the mission, the need, and the requirement. He says, "It's critical. It's the only way to reach our students quickly. There's no other across-the-board method to get all our students, staff, and faculty alerted simultaneously."
USG knew they needed to take their emergency action and response plan and map it to their emergency notification system. This ensures their action plans and procedures for each potential emergency are aligned and can be initiated when needed - immediately. It's about being prepared. Brandt and his team have multiple Scenarios predefined so that when in need, they can simply add small details like day, time, and location and immediately initiate notification, response, and recovery. These templated communications might include an alert for a tornado, school delay or closure, road closure, etc.
USG has 80 different majors, with many different specific classrooms and labs designed to help their students learn best. Some classes might not allow students to have their mobile phones turned on. That's why Brandt and USG knew they needed to send more than just a text and email. When Brandt and his team need to send an emergency communication, they are able to send it through more than text and email. The notification, guidance, and/or action will post to their social media accounts such as Facebook and Twitter. It will also appear at the top of their display monitors across campus. In addition, communications will be displayed in their USM Mobile app. USG uses this multimodal approach to make sure they reach all of their students and staff, no matter where they are.
USG knows they aren't immune to danger, but they are prepared for it. Check out the story from WDVM to learn more about how Brandt and his team keep their people safe.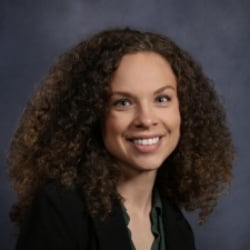 Juliet Hulse
Juliet is the Marketing Operations Manager for Omnilert. With her education in marketing, and her professional background in sales, she is able to understand the important marriage of marketing and sales.