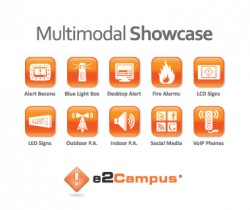 e2Campus showcases all the communication endpoints that can be controlled from one central interface during an emergency
SAN ANTONIO
From Booth #803 at ACUTA 2010, Omnilert®, LLC today announced the debut of "The Multimodal Showcase," an online shopping experience where visitors can browse the latest mass communication technology that integrates with the e2Campus unified emergency notification system.
Download the e2Campus Multimodal Showcase Flier
Accessible from www.e2Campus.org, customers can learn details about qualified third-party technology such as desktop alert software, digital signage systems, scrolling LED displays, indoor and outdoor loudspeakers, fire alarms, alert beacons, blue light emergency phones, VoIP phone systems, social media, and more.
Third-party technology must pass a thorough testing program before being "certified" to integrate with e2Campus. "Certified Endpoint Providers" or CEPs include technology from ActiveAccess, Alertus Technologies, BRG Precision Products, Exhibio, Facebook, Inova Solutions, MagicBox, Twitter, Visix, Whelen, and others. Many other third party technology providers are qualified to successfully integrate with e2Campus, but cannot be mentioned here without violating trademarks. CEPs provide additional feedback and reporting within the e2Campus interface.
"e2Campus is the epicenter of notifications systems," says Nick Gustavsson, Chief Technology Officer at Omnilert. "Every day, new communication technologies emerge and it is critical for schools to be able to send emergency information to all of these technologies – from one centralized interface. This keeps the message uniform and delivers information in the way that notifies the entire community reliably. The Multimodal Showcase is a significant milestone in ensuring e2Campus customers have the necessary tools to keep their communities safe."
A modern campus can alert students via text, voice, signage, web, public address, and countless other means, and e2Campus allows schools to do this simultaneously. By integrating the schools' existing technology infrastructure with e2Campus, bureaucratic and human bottlenecks to broadcast an urgent message are eliminated, enabling fast, accurate delivery of messages via multiple, integrated communication channels. The issuer of e2Campus alerts has complete control over which endpoints receive e2Campus alerts on a case-by-case basis, which ensures that relevant alerts get to the right people in the community.
About e2Campus
Used by more than 750 schools around the country, e2Campus is the first and most trusted unified emergency notification system in education. It is an award-winning, CAP compliant, Tier-1 notification system that enables non-technical staff to send custom or predefined messages instantly to the campus community for improved crisis communications. There is no traditional software to install, no hardware to buy and no additional phone lines needed. Through one unified interface, e2Campus instantly and simultaneously sends multimodal alerts to a subscriber's mobile phone (via SMS text message), landline phone (via voice message), computer desktop (pop-up), and e-mail accounts, plus school infrastructure such as PA systems, digital signage, alert beacons, Facebook Pages, Twitter Accounts, relevant school Web pages, and other endpoints the school may have in place. To learn more, visit http://www.e2Campus.com.
About Omnilert
Omnilert, LLC is the leading provider of unified mass notification systems for better business continuity, emergency management, and routine communication. The easy-to-use, self-service, Web-based system enables a single person to communicate timely information to thousands of people anywhere, anytime, on any device or service. The award-winning company's 3,000 clients include the U.S. Army, GE, Harvard University, Boeing, American Red Cross, UNICEF, sanofi-aventis, and the National Institutes of Health. Omnilert solutions are sold under the brand names e2Campus, Amerilert, and RainedOut. The privately held company is headquartered in Leesburg, Va., and at http://www.omnilert.com online.
Link to High-Res Photo of The Multimodal Showcase by e2Campus.