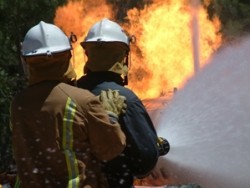 Proper disaster preparedness is about much more than giving emergency officials the tools they need. To be truly effective at preventing and responding to a disaster, communities must create emergency protocols and work to explain them carefully to residents. Additionally, officials must be sure that they have the right crisis communications systems in place to facilitate communication and help officials, business owners, school administrators and residents share crucial information about the unfolding event.
Two recent events exemplify how communities can work with citizens to help ensure that, in the unlikely event of a disaster, proper measures will be taken.
Sharing resources
On a recent Saturday, local officials and emergency responders in a Texas community gathered residents to provide resources and information about how to prepare for and react during an emergency, according to the Villager. The annual Woodlands Emergency Preparedness Community Event has become one of the community's most valued resources, and this year's was no different. Residents were able to obtain packets with useful information from representatives of the local police, fire, energy and Red Cross forces.
"We've found that people are much safer and prepared during an emergency situation when they've established clear plans," said Holly Steinke, the program coordinator for The Woodlands Township, according to the source.
In addition to general information about emergency management and disaster response, attendees received plastic bags filled with safety tips and information about what to put inside an emergency kit.
"People don't always remember to keep medications on hand, as well as food and water on hand for a minimum of three days depending on the situation," Steinke told the source. "We also encourage people to check their kits every six months to ensure their provisions don't expire when they really need it."
Don't forget the schools
Schools can be especially susceptible to crises, so many emergency officials make it a priority to provide school officials and teachers with the information they need to be prepared for an emergency. A recent article in the Lighthouse highlights the important role schools play in emergency preparedness.
Essentially, the source recommends taking three important steps to safeguard schools against disasters: staying informed, creating a plan and assembling a disaster kit.
In addition to these resources, it is important for schools and communities to have a dependable crisis communications system, like Omnilert, at their disposal. Such an emergency notifications platform helps city and town officials share important information with citizens and others during crises. By relying on Omnilert, community members can receive updates through emails, phone calls, text message alerts, Facebook, Twitter, website notifications, and more.